BSN NO XPLODE 3.0 45 Serve
OVERVIEW
Featuring a more concentrated formula (over 17% reduction in serving size2) and advanced ingredient technology, N.O.-XPLODE® has been re-engineered to help push you and your workout past previous limits.
Push yourself and your workout as far as you can.
Then, push further.                           
How Will N.O.-XPLODE® enhance my workout?
To achieve the most effective training session, both mental and physical energy are a must. Focus is then needed to harness this energy and drive a strong mind-muscle connection. This mind-muscle connection will help you achieve a greater workout intensity* and help push your body past previous limits. At BSN®, we know that a pre-workout supplement should support all of these benefits. We designed N.O.-XPLODE®, our complete pre-workout igniter, to help deliver increased energy and endurance, support mental focus and muscular strength*, and provide second-to-none intensity to help athletes of all levels maximize workout performance.
Advanced Ingredient Technology
BSN® Pros have crafted the ingredients of N.O.-XPLODE® to work together and enhance overall workout performance.* The innovative ingredient technology of N.O.-XPLODE® features:
Explosive Energy
To maximize every moment of your workout and achieve your best results, you need energy. Equally as important is to channel that energy, ensuring a mind-muscle connection.
Our Thermic Energy™ blend helps deliver explosive energy, enhancing your workout intensity from start to finish.
Enhanced Endurance
Your body responds to the amount of work you do over a period of time. Whether you're in the gym or on the field, our Endura Shot™ blend, featuring a concentrated beta-alanine blend, helps enhance your workout capacity, giving you the opportunity to exercise longer.
Maximum Performance
Muscular strength, power and endurance are supported by creatine in the body.
The innovative ingredient technology of our Myogenic Matrix™, featuring an advanced creatine blend, helps every athlete reach their goal of maximizing performance.
NUTRITIONAL INFORMATION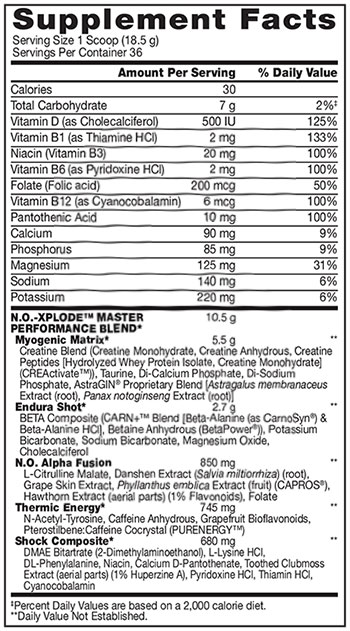 Rates
Supplement Warfare charges flat shipping rates per ship-to address. The flat rates correspond to delivery method. Rates (incl. GST) are as follows:
Standard delivery – $9.95 (3-5 business days)
Express delivery – $19.95 (1-2 business days)
For all orders exceeding a value of $49.99, express shipping is free except PO Boxes will be shipped via regular post.
Your total shipping charges will automatically compute during checkout prior to the completion of your order.
Most orders begin processing as soon as your online purchase is completed. You won't be charged for any product until it's shipped to you. Supplement Warfare.com.au can only ship within Australia.
Delivery Time
Standard Shipping, 3 –5 business days
Your order should arrive within three to five full business days if you order before 1:00 pm.
Please note that we are experiencing a large volume of orders in the lead up to Christmas. We aim to keep our delivery promise to you but please note that in order to guarantee your orders arrive before Christmas you must place your order by 1pm on 16/12/2014.
During sale periods, orders may take longer to process. Our deliveries can be impacted during peak periods and our delivery times should only be used as a guide.
Shipping Rules and Restrictions
Orders are shipped on business days only. Business days are Monday to Friday, excluding national holidays in Australia
We cannot offer express delivery to PO boxes, Parcel Lockers or Rural Areas.
Delivery of your parcel: For Adelaide Metro deliveries — Toll Fast is the local courier company. The driver will automatically leave the parcel in a safe place, even if you are not at home to sign for the delivery. In case the driver cannot find a safe place, a notice will be left at the premise with alternative delivery or pick-up options. 
Please contact our Customer Service team at sales@supplementwarfare.com.au if you have any questions.
Due to logistical difficulties in making deliveries to certain remote areas, we reserve our right to cancel your order and/or make such order subject to additional terms and conditions (including without limitation to requiring such orders to be conditional upon a minimum value of products being ordered in a single transaction). Our Customer Service team will notify you of cancellation and/or such conditions as soon as reasonably practicable after you place your order.
Tracking your order
You can track your order by going to your Order History under My Account. Go to the order details of the order that you want to track and click on the tracking number in the "Details" column.